Hi Friends! This Easter weekend I hope you are taking the time to reflect on all the amazing things that God's doing in your life. Today marks a big change in history. One where one man, one single.human.man sacrificed himself so that he could bridge the gap between him and his father. That separation came through a death on a cross and then and then three days later a glorious reunion in Heaven. Being a mother I often find myself wondering how a parent even survives through that kind of loss, yet I read about it on blogs all the time. I'm truly honored and amazed that they have chosen to be Jesus with skin on by sharing their loss, their story.... their journey with us. May God be the glory in your life today and always. God is good!
Thanks for joining us for Week 10 of Find a Friend Friday,
Alissa
and I are so glad you stopped by.
Alissa and I have met so many amazing people and even though we say that every week, we truly mean it. Today we'd like you to meet Jana from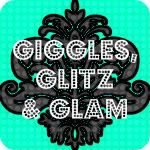 Jana has an amazing heart!! And her shoppe is filled with all kinds of eye candy.
I hope you'll stick around because she'll be back in the next couple of weeks to share her story as part of Alissa's
Be Ready, Be Prepared, Be Molded Series
. You can read part one and part two
here
and
here
.
1.Tell us about yourself.
My name is Jana and I blog over at
Giggles, Glitz & Glam
as well as
Thirty-One:10
! I am happily married to Cody and we have two adorable but obnoxious dogs. Mikey, the black lab/border collie mix and Abby, the boxer. I work full-time for a non-profit organization called Christian Life Ministries and I am head over the Orphan Department. We are highly active in our church and with our home group. I have to say, we've got it pretty good!!
2. Tell us a little about your shop.
Giggles, Glitz & Glam was created because I decided I wanted to make tutu headbands and matching tutus. My nieces were my guinea pigs and after making the first set I was madly in love which is just how my shop developed!

3. How did your shop name come to be?
I started blogging as To Dabble in Design, but when I started making tutus I knew it was time to come up with a new blog title and business name. I really thought long and hard as I wanted it to be something I could grow into. The word Giggles popped in my mind and I wanted it somewhere in my name, but wasn't really sure. I kept playing with different words until I landed on Giggles, Glitz & Glam. I think it describes perfectly my shop and I think it allows room for growth. I figure if I started to make things for boys and mom then it could be Giggles for boys, Glitz for girls and Glam for moms. Sorry dads, but I've got nothing for you! :)

4. What got you started with your craft,and selling your items?
Two adorable nieces. Okay, that's only partially true. I started making pillowcase dresses for the
Pillowcase Project
and fell in love with sewing and the crafty world. I dreamed of a day when I would be a stay-at-home mom and wondered how I could contribute financially to my family without having to work. I walked through a store one day and saw these adorable tulle headbands. My niece desperately needed one, but I wasn't about to pay for it! I made my first headband and before long I realized it needed a tutu to match. And now it's history!!

5. Favorite part of your day?
When we go to bed at night. Cody scratches my back while he prays over us, our families and our future. I'll admit I don't always manage to stay awake, but it's the most cherished part of my day.

6. What food or food group would you refuse to live without?
MEXICAN FOOD. Life would not be life at all if it did not exist. Although to many of you, our mexican foods may be very different. We eat tex-mex around here and it's SOOO good!! Mmm!
7. Where can we find you?
Now let's get linking! This week we'd love to see what you're working on. It can be an Easter craft, a tutorial, interior decor, DIY project or your own store and blog. We love it all. There are no rules, but if you love what you see I hope you'll follow Alissa, Jana and myself!
Linky party ends on Monday night.